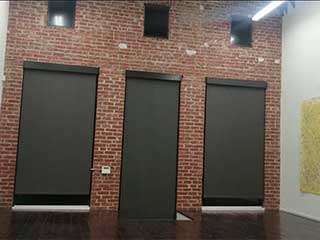 Why not upgrade your home to have the best of comfort and privacy with blackout blinds? Our Campbell team can help you find the right style for you with our free consultation. Blackout window treatments come in a variety of types to suit your tastes! You'll be able to block out both light from outside, as well as any unwanted gazes, all in one with these exceptional room darkening window coverings. From making your living room into the ultimate TV watching experience to getting better sleep, you can find out more about the benefits of blackout blinds below.
Blackout Office Blinds to Streamline Your Business
Campbell Window Shade is here and ready to assist you in improving the overall work output and efficiency of your office! Blackout blinds mean no more glare, which can drastically improve employees completing their work in a timely fashion, as well as avoid them hurting their eyes after extended periods. It also assures confidentiality for private offices, as well as boardrooms, by keeping out all but the intended gazes. Blackout window coverings do wonders for presentations as well, ensuring the darkness required to easily view them. You'll only wish that you'd equipped your business with them sooner!
Campbell's Most Efficient Motorized Blackout Blinds
Whether you have a smart home system already and love it, or want to take the first step in that direction, motorized blackout blinds are the best choice. Motorization means you can connect your new blackout window treatments with your smart home system, which will then adjust them according to your specifications. No more worrying over your furniture getting bleached from too much sunlight, or energy waste! Motorized blackout blinds are still excellent even without a smart home system, as you can either use an app on a smart device, remote control, or wall sensors to take care of opening and closing them with ease.
Blackout Blinds for Skylights and Patio Doors
Blackout skylight blinds will ensure that your home isn't getting too much direct sunlight, which is one of the unfortunate risks of having these overhead windows. Not only can it damage furniture, but it causes temperature fluctuations that drain energy. However, blackout window treatments will take care of both issues. Sliding glass doors can also let in a lot of sun if left uncovered, but that's where our blackout blinds made specifically for glass doors come in. We custom-make each set according to your windows' specifications as well!
Quality Sleep with Blackout Bedroom Blinds
Blackout blinds on bedroom windows are the best way to get a restful sleep. No matter if you work a graveyard shift and need to sleep during the day, or are sensitive to the bright streetlamps outside, these window coverings will darken your room regardless so you can relax. You can find blackout blinds also quite helpful in nurseries to help keep your baby sleeping soundly, regardless of when it is they finally fall asleep. Sleep makes a big difference when it comes to your happiness and good health, so make sure you're feeling your best! We offer free in-person consults all across the nearby parts of the Bay Area.For more info, get in touch with Campbell Window Shade toady to arrange for a free estimate & consultation appointment.