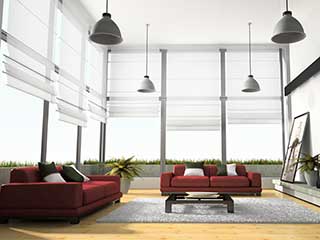 The range of window treatments you can choose for your bay area property has a long list of options. But one thing's for sure. Motorized blinds and window shades offer the most convenient way to remote control the amount of sunlight that gets inside your Campbell business or home. The range of automatic features for window blinds and fabric coverings allows you to motorize your shades in a great variety of ways. Campbell Window Shade offers local residences and commercial establishments, simple and cheap shading solutions with Wi-Fi or Bluetooth remotes.
Wi-Fi Smart Blinds For Campbell Windows
The prevalence of Wi-Fi has allowed for all sorts of innovations over the years. Now with motorized blinds becoming more and more popular by the day, the remote control variations that utilize Wi-Fi let you have complete control over your electric blinds. Instead of the classic handset, use your smartphone as your automatic blinds remote. Connect via Wi-Fi and raise or lower the motorized blinds from anywhere with a good signal.
Custom Motorized Roller Shades
One of the most popular choices with blinds automation, motorized roller shades give you a simple way to improve the décor. Roller shades, in general, have a straightforward appearance that can add simple elegance to all sorts of Campbell homes and commercial businesses. You can get them in varying levels of opacity too. That means having ultimate decisions as to how much sunlight your sheer or blackout motorized roller shades will have. The right amount varies from room to room. You'd want complete blackout features for bedrooms and sheerer and light-diffusing qualities for kitchen and living room areas.
Wired & Wireless Electric Blinds
With motorized window treatments, you have a range of power source options you can pick. One of the most popular one is wired blinds. These connect directly to your Campbell office or home electrical infrastructure. Of course, the blinds installation process requires a bit more work as a result. But the pros far outweigh the cons in that regard. Wired motorized blinds move the fastest, and you can control different sets simultaneously. The movement stays smooth with no stuttering when the electrical power source is directly connected to the main grid. With wireless window treatments, a.k.a battery-powered blinds, the installation is faster. It's just a matter of setting them up above the windowpane. However, the battery pack's visible presence can make for a less aesthetic look. Plus, battery-powered motorized blinds move a little slower than their wired counterparts.
Custom Made Blinds, Motorized
One of the most important things with blinds, motorized or manual, is the dimensions. When you get custom blinds made specifically for your Campbell property and its windows, you can ensure no sunlight coming through the bottom or sides of the window. One size does not fit all, you see. With motorized window blinds, the same as with manual versions, fitting the width and height means a lot. Want to find out more about all the available features and options? Give Campbell Window Shade a call and set up a free in-person estimate at your local Bay Area home or office.