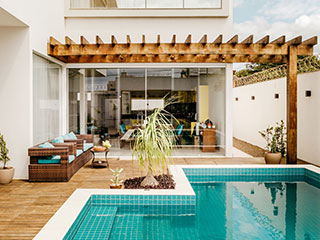 Spending time outdoors can be enjoyable, provided you don't have to swelter under the hot sun. Patios, decks, porches, and various outdoor shade structures provide the perfect lounge spot for Campbell backyards and lawns. But lack of shade is a big problem, and stationary covers don't meet your full needs nor can they adjust to the changing position of the sun.
Motorized Patio Covers & Canopies
The best solution for outdoors, motorized coverings for patios, pergolas, and decks give you an excellent way to enhance outdoor lounge areas without spending a fortune on renovations. Motorized patio covers can extend to add shade when the sun is high in the sky, and can also protect you at other angles with motorized awnings or pergola screens. These remote control covering solutions for outdoor Campbell decks and patios improve the functionality of the space, making it useable in practically all hours of the day.
Pergola Screens and Motorized Canopies
As far as outdoor shade structures go, pergolas are hard to beat. They give you a structured addition to the patio, with a motorized canopy above you can switch from full coverage to open space. Motorized pergola canopies are incredibly popular as shading solutions for such outdoor spaces. So too are pergola screens, which add protection from the sides. Pergola screens also provide more privacy, with sheer materials diffusing sunlight to still allow some of it to pass without it becoming overbearing. Pergola screens and motorized canopies are a must-have addition to those seeking total protection and comfort in their outdoor spaces.
Motorized Awnings and Other Covers For Campbell Patios
With our selection of outdoor shade solutions for decks and patios, you can pick the design and control features you want for any outdoor covering. Something that people often neglect when choosing new patio covers is the aesthetic. With a great selection of styles, our custom made motorized patio covers, including awnings and deck canopy options too, have something to offer every customer. Thinking of adding motorized covers to your Campbell pergola or patio? Get in-person consultation and a free estimate from our experts on outdoor motorized shading solutions. We'll make sure you get top quality at a bargain price!