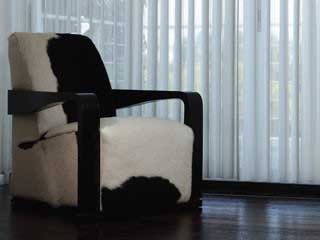 Style and functionality all in one easy-to-afford package. That's what we promise when you choose to design custom vertical blinds with Campbell Window Shade. Our made-to-measure window coverings are ideal for the bedroom, living room, or even the workplace. That's because we focus on providing unbeatable variety, and we let you custom-design every aspect of your new vertical blinds. From color and material to size and even the type of operation, you've got the power to choose. For a free consultation and an estimate at your address, simply speak with our Campbell-based specialists today.
Cheap Vertical Blinds Source Near You
It's easy for you to find the perfect match when you have access to our amazing range of designs. We're known as one of Silicon Valley's leading makers and installers of vertical blinds from metal, vinyl, wood, and even various faux wood alternatives. Every color is available, and a plethora of different materials too. So whether you need a light and airy fabric for the kitchen or something a little darker for your bedroom, we can give you what you need. This lets you put a real unique stamp on each room. You can be sure you'll find the right vertical blinds for windows large or small, in any room of any building. If you're looking for great deals on vertical blinds in or near Campbell, then we're the go-to window treatment company to call.
Low Prices For Motorized Vertical Blinds
Cutting-edge remote control blinds provide a huge range of versatility. These window coverings are a great way to enhance any room since they provide you with the last word in convenience. Vertical blinds for office windows become a whole lot easier to adjust when they're all linked to one central control panel. Motorized vertical blinds can have wireless power sources, too, allowing you to quickly and easily install them anywhere. They can work great for all sorts of purposes. How about motorized vertical blinds for sliding glass doors? When you're going outside with your hands full you can easily sweep them open with just a press of a button. Because of this, motorized vertical blinds for patio doors are a great way to make your Campbell home more convenient. You'll wonder how you ever managed without them!
The Best Vertical Blinds In Silicon Valley
You'll find that Campbell Window Shade delivers high quality at every step of the way. Because we provide totally custom designs from the ground up, we allow you to create whatever you want for every window, glass door or skylight. Vertical blinds with curtains are no problem, and this is a popular combination used in bedrooms and living rooms by plenty of customers all around Campbell. You can easily make improvements to your home or office, and you don't have to worry about any of the hard work, either.
Free Quotes and Consultations (at any Local Address)
Our local team has many years of experience designing, building, and installing vertical blinds in a variety of properties. All you need to do is tell us what you want during the free consultation, then sit back and let us handle everything. You'll get to enjoy seeing your vision brought to life, and there's nothing quite like having custom window treatments in your home or business. Get started today by contacting us for a free at-home consultation.