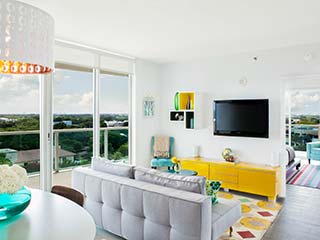 Window shades, motorized ones, in particular, give you amazing benefits when it comes to utility. In addition to this, though, they also provide a huge range of gorgeous styles and designs that fulfill any aesthetic requirements. The big draw of motorized Lutron shades is, of course, the convenience that they offer. There's nothing quite as amazing as being able to adjust natural light levels in a room without having to leave your seat. Simply press a button on the remote control, and you can keep the sun out of your eyes. This keeps you comfortable, and it also lets you maintain the ideal temperature in your property, too. Our local experts on Lutron shades in the Campbell area will help you find the perfect system for your home, and provide a free estimate on all work.
Blackout and Sheer Shades, Motorized
The choice between blackout and sheer window coverings determines what type of effect they'll have on your room. If you want a dark room, then blackout shades are the right choice. Because this brings privacy, as well as cutting out all unwanted natural light, motorized blackout shades are a popular addition to many Campbell bedroom window shade setups. On the other hand, you might want to create a comfortable ambiance by dispersing sunlight softly throughout the room. Sheer shades, with motorized Lutron controls, are thus a popular choice for kitchens and living rooms. Whichever style you choose, you've got access to the finest materials and designs on the market when you choose to install custom-made Lutron motorized shades.
Smart Lutron Wireless Shades
If you want the best for your workplace or home, then automatic window coverings with remote controls are the ideal way to upgrade. These systems can be fully hands-free with the addition of sensors for detecting sunlight and temperature. When the room is too hot or too bright, they'll close, keeping your property comfortable at all times. This helps maintain a comfortable environment without any additional work from you. What could be better than that? Add remote control options such as wall switches, dimmers, and even WiFi integration to all this, and you've got a recipe for success.
Cost-Free Consultations From Campbell Lutron Shade Experts
Sit down with our team and find out what Lutron motorized shade systems can do for your Campbell office, residence, or other property types. Our specialists will guide you in creating the perfect solution for your home or business, and provide you with a free estimate on all the work you need carried out. Learn more about motorized Lutron shades and decide how to upgrade your workplace or home with automatic window coverings. Call today to get started with a free estimate!