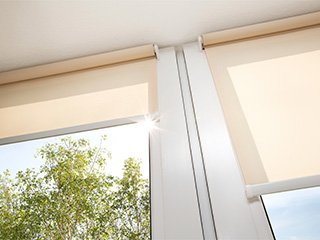 Choosing new coverings for windows or glass doors demands you focus on your needs as well as your taste. Roller shades, one of the most versatile types of window covers, give you a simple-yet-effective way to control indoor sunlight presence. And they're easy to customize when it comes to color, texture, and pattern too! From blackout fabrics to Wi-Fi remote controls and motorized roller shades, the variations make for a lot of available options.
Better Privacy With Blackout Roller Window Coverings
Whether for the bathroom, bedroom, or even a business space, sometimes you don't want to have any prying eyes! That's where blackout roller shades come in. The fabric they're made from will assure that nobody will be able to peek inside! Campbell Window Shade makes each set of roller coverings according to your window's measurements. That allows us to ensure no gaps for anyone to see through. On top of giving you peace of mind, blackout roller shades also block out any outside light as needed! They eliminate computer screen glare and let you sleep uninterrupted even during the daytime.
Sheer Roller Shades For Campbell Kitchens & Other Rooms
If you'd rather have window coverings with a lighter air to them, sheer roller shades offer exactly that. They have a warm and cushy feel to them that suits any areas where you want to make guests feel more at home. Sheer roller shades also allow for natural lighting, making those spaces look bright without harsh glare! Usually, direct sunlight coming in unhindered can present different problems. From increasing energy bills to damaging wallpaper and furniture. But not so with sheer roller shades! They prevent your home from getting too warm and having the temperature fluctuate. That way your AC won't run excessively. Sheer roller shades diffuse sunlight and soften it, letting you make use of natural light without the downsides of direct exposure.
Silent Motorized Roller Window Shades
You may hear the term motorized roller shades and worry about the noisy operation. But that's not true in the slightest! Motorized roller shades open and close quietly enough that you can use them in a nursery without fear of waking up your baby. They make it easy to cut off outside light and let anyone sleep in peace. You can install motorized roller shades on hard-to-reach windows too. Those can feel like a drag to cover or uncover when you can't have manual coverings, so motorized shades work great there. For our Campbell motorized roller shades customers, we offer Wi-Fi connectivity, smartphone compatibility, and more excellent features. Find out more with a free estimate from one of our local professionals.
Custom Made Roller Coverings
You choose the features, designs, and colors you want for your new roller shades and we take care of the rest! These classic window coverings can add simple, stylish furnishings to any interior décor. You can get them custom made specifically for bedrooms, office spaces, bathrooms, and even for outdoors! That's right, we also make and install waterproof motorized exterior roller shades for decks, patios, and gazebos (among other spaces). Give us a call to book a free consultation appointment at any local address. See all the samples and choose the features and looks you want for your new window shades.