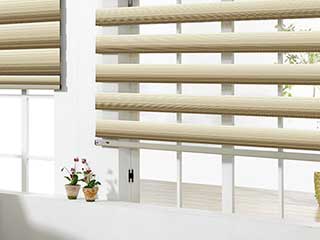 Do you want aesthetically pleasing and beautiful enhancements to your home, without having to spend a fortune? Custom made faux wood blinds are a great place to start. Wood window treatments have been beloved for years thanks to their natural, refined look. However, they can be pricey, and also require a lot of attention. Neither thing is true of faux wood window coverings, and they look the same as the real thing! Our professionals are happy to tell you more if you read on below:
The Pros of Faux Wood vs Real Wooden Blinds
You may be wondering if it's worth it to get faux wood window treatments over the real thing. That's what our experts are here to help you decide! Overall, it depends on your wants and your budget. If you have time to commit towards the upkeep required for wooden blinds, such as treating them against moisture repeatedly and cleaning them with specialized products that won't harm them, then they may be for you! As long as you don't mind a little more expensive price tags. However, if you want the same look for cheaper, and without all the fuss, then waterproof faux wood blinds are exactly what you're after. With imitation wood window treatments you can get the same level of textured beauty, at a lower cost. And without the pesky maintenance needs, might we add.
Faux Wood Blinds For Campbell Kitchens
Real wood is too at risk when it comes to being in a kitchen. With all the water, oil, and even food itself that can splatter onto them, the chance of damage is very high. However, you can still achieve the same natural beauty, without the liability, with waterproof faux wood blinds. None of the aforementioned dangers can harm them, due to the lack of vulnerability to moisture, and they're simple to clean if they do get hit as well. Even if you prefer real wood for the rest of your Bay Area home, faux wood blinds are the best choice when it comes to your kitchen.
Faux Wood Window Treatments That Last
Our Campbell blinds experts are here and offering a free consultation to assist you in discovering the perfect custom faux wood blinds for your home! This includes helping you choose the material, such as vinyl or PVC, that will emulate real wood while being much more flexible and lighter. You also get to pick out the imitation wood staining, so it'll match any room's look and furniture. It's all the lovely texture and patterns you want from real wood, but in a form that can stand up to kids, pets, and otherwise without risk. With faux wood blinds, you can get a durable covering option that offers beauty as well as utility.
Get a Free Quote On Imitation Wood Blinds
Our technicians use the measurements of each of your windows to create the faux wood blinds, which means they'll fit your windows perfectly! No cracks of light around the outside, just reliable darkness when you want it. Even if you'd like to learn more about our other styles of window coverings, we'll be happy to lend you a hand! Contact us today, and get your free consultation scheduled to get started on giving your home the makeover you've been dreaming of.