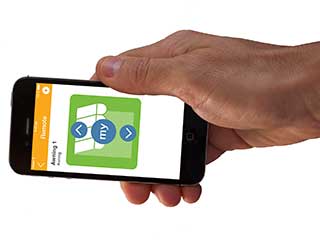 Automatic blinds are the most popular shading solutions around today. Somfy blind systems offer an amazing selection of different options to pick from, with extensive options to choose between. Motorized roller shades with sheer or blackout configurations, or high-strength rolling shutters that offer security and protection. Somfy motorized shading solutions in the Campbell area are ideal for residences and businesses that want the very best coverings for their windows. Features and aesthetics that suit your property are easy to find.
Cover Large Windows With Rolling Shutters
Wall switches and remote control handsets are just the start when it comes to adjusting your Somfy shutters or blinds. These allow you to adjust your new coverings to whatever position you like, to let in more or less sunlight. You can even use WiFi connectivity to integrate Somfy blinds straight into your smart home system. What could be more convenient than that?
Somfy Smart Motorized Shades
Residential and business properties all benefit from the advantages that smart Somfy shades provide. When you link these coverings with your WiFi system, you can set them to operate straight from your smartphone. In addition, a range of temperature and brightness sensors takes all the guesswork out of positioning your custom Somfy motorized shades. They'll do all the work for you, and keep the property at a comfortable temperature the whole day long.
Automatic Shading Solutions For Outdoors
Patios, decks, and backyard pool areas all need good protection from the sun, because UV radiation is a big problem. Match motorized awnings to a range of outdoor shade structures, and use pergola screens to protect from bright sunlight. Add in motorized deck canopies and gazebo shades, and you've got a lot of ways to keep the sun off people in your backyard. When you use Somfy motorized shades, you'll find it really easy to stop people from getting sunburned. That means more use of your outdoor areas, and a more enjoyable space to spend time.
Best Range Of Somfy Blinds In Campbell
Learn about our extensive range of designs and attractive products by speaking with our Campbell motorized blinds installers. Our Somfy motorized shading experts are always happy to help you out, and we offer free estimates on all systems. Blinds, shades, and shutters with Somfy remote control operation are a really easy and cost-effective upgrade for any home or workplace. Call now to schedule a free consultation at your property, and discover what Somfy blinds, shutters, and shades can do for you.